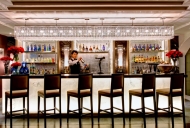 Come enjoy a 1920s 'speakeasy' with the most creative drinks and happening jazz in town!

Fabulous 'happy hour' from 5–7pm daily.
+ Find out more
Sukosol Hotels
Siam Bayshore Hailed As Outstanding Hotel 2011
The Siam Bayshore Resort & Spa, Pattaya has been named an Outstanding Hotel Partner 2011 by Booking.com for its performance in terms of room nights and revenue sold through the company's website. During the period 2010 to 2011, room nights processed through Booking.com increased by 4900, which translates to a 57 percent boost over the previous year. "We are overjoyed to be named as an Outstanding Hotel Partner with Booking.com," says Songsri Tanurattanabutr, vice president for sales and marketing at Siam Hotels & Resorts. "Our online business growth is nowadays very strong and we are focusing our marketing resources into social media and online promotions to give our fans the best possible deals."

Booking.com BV, based in The Netherlands, is the leading worldwide online hotel reservations agency by room nights sold, attracting over 30 million unique online visitors each month, including the leisure and business markets worldwide. Established in 1996, Booking.com guarantees the best prices for any type of property, ranging from small independent hotels to five-star luxury properties. The website is available in 41 languages and offers over 120,000 hotels in 99 countries.
---
Siam Bayview Hotel Awarded Agoda Golden Circle Award 2011
Agoda travellers have ranked the Siam Bayivew Hotel, Pattaya among the world's best hotels and awarded it a prestigious Golden Circle Award. Each year, agoda.com recognises outstanding hotel partners by presenting them with a Gold Circle Award. The awards, launched in 2009, are unique to agoda.com and are intended to honour hotels that show commitment to providing a superior online product.
This year a total of 381 hotels worldwide received a Gold Circle Award. Winning hotels must meet certain criteria to qualify for an award. First of all, they must have worked closely with agoda.com to offer consistently competitive room rates. They also must have utilised agoda.com's custom-built YCS 3.0 yield control system to maximize revenue. Finally, they must have earned positive reviews and comments from agoda.com customers.
---
Siam Hotels & Resorts Awarded TripAdvisor's Certificate of Excellence 2011
Siam Hotels & Resorts is proud to announce that two of its top properties have been awarded the TripAdvisor Certificate of Excellence for 2011 – Siam City Hotel, Bangkok and Siam Bayshore Resorts & Spa, Pattaya. The award is given to establishments who consistently receive an "excellent" rating review from guests. Both properties have been constantly ranked amongst the top 10 hotels in their respective destinations. Siam Hotels & Resorts is honoured to have received this recognition and is proud that the hotel group's gracious warm Thai hospitality has satisfied its valued guests.
"We are immensely proud that two of our premier hotels have received such a prestigious honour," said Maria Sukosol Nunbhakdi, executive vice president for Siam Hotels & Resorts. "As we always strive to offer our customers a memorable experience and superlative service, it is nice to know that our guests notice and appreciate these efforts and take the time to acknowledge us. This accolade is evidence that our hard work is translating into happy travellers which is the most important thing."
This prestigious certificate is awarded to member properties of TripAdvisor who consistently receive excellence ratings from travellers around the world. To qualify, the property is expected to maintain an average rating of 4 or higher out of the possible 5, as reviewed by travellers on TripAdvisor. Additional criteria include the volume of reviews and how recent these reviews are submitted by TripAdvisor travellers. TripAdvisor is the world's largest travel community site, enabling travellers to plan their perfect holiday by offering trusted advice from travellers who have experienced the properties and services reviewed first-hand.
---
8th Thailand Tourism Awards 2010
Siam Hotels & Resorts is proud to announce that in the 'Awards for Tourist Accommodation, City Hotel, More Than 80 Rooms' category of the 8th Thailand Tourism Awards (Kinnari Awards) the Siam City Hotel was given an Award of Outstanding Performance. The honour was conferred upon the hotel, and accepted by its Resident Manager, Vishnu Bangsomboon, at the Awards Presentation Ceremony on World Tourism Day, September 27, 2010.

The Thailand Tourism Awards were first introduced by TAT in 1996 with the recognition and endorsement of the World Tourism Organisation. The awards recognise and honour tourism-related organisations in the private and public sectors which have played a significant direct and indirect role in tourism development. The Thailand Tourism Award is Thailand's 'Hallmark of Excellence' – a symbol of assurance in the outstanding quality and reliability of tourism products and services offered by a particular organisation or operator.The Siam City Hotel, Bangkok is very proud to have been singled out for recognition with the conferring of this most distinguished award, which recognises the properties outstanding contributions to Thai tourism and highlights its innovation and creativity in the fields of sustainable tourism, conservation and environmental protection.

To reflect global trends and address new priorities on the national tourism agenda, the judging criteria for the 2010 Thailand Tourism Awards took into consideration the following: issues related to the environment, action taken in response to global warming/climate change, participation, sufficiency economy, good governance, corporate social responsibility and overall integration.
---
Expedia Insiders' Select List 2010
Expedia travellers have ranked the Siam City Hotel, Bangkok and Siam Bayview Hotel, Pattaya among the world's best hotels on this year's Expedia Insiders' Select list. The list yet again recognises individual hotels worldwide that consistently deliver excellent service, notable value and a great overall experience. The full list represents only a small percentage of the world's top hotels and resorts from the more than 110,000 properties offered on Expedia.
"Delivering our guests superior service and the Spirit of Siam experience is a top priority at both our hotels," says Marisa Sukosol Nunbhakdi, executive vice president. "We are pleased that our efforts have been acknowledged by Expedia travellers and look forward to extending our high level of service and superior quality to even more guests in the future."
The 2010 Expedia Insiders' Select list is compiled from more than one million Traveller Opinion hotel reviews collected by Expedia, combined with a value rating and the local market expertise of more than 400 Expedia employees in local markets worldwide. The result is an easy-to-browse list that provides travellers with a powerful way to find the perfect hotel using the trusted insight of other intrepid travellers. To ensure authenticity, Expedia verifies each Traveler Opinion by confirming that the reviewer has stayed at the property within the past six months. To qualify for the honor of inclusion on the Expedia Insiders' Select list, a hotel had to have a minimum number of reviews in 2010. The Siam City Hotel and Siam Bayview Hotel are proud to be named in the list; proving once again that we they are top quality destinations in Bangkok and Pattaya.For more information, visit www.expedia.com/insidersselect.
---
ASEAN Tourism Standard Award 2010
Both the Siam Bayshore Resort and Siam Bayview Hotel in Pattaya have received the thumbs-up for being green and were recently awarded the ASEAN Green Hotel Award by the ASEAN Tourism Forum. The award recognised the most environmentally friendly hotels in each ASEAN country. The award was given in recognition of the two hotel's compliance with environmentally friendly and energy conservation measures.
The ASEAN Green Hotel Standard is one of the six ASEAN tourism standards that the 10 ASEAN member countries of Cambodia, Brunei Darrussalam, Indonesia, Lao, Malaysia, Myanmar, the Philippines, Singapore, Thailand and Vietnam consider essential for helping the Association of Southeast Asian Nations (ASEAN) to be a Quality Single Destination.
The Green Hotel Recognition Committee selected the hotels based on 11 criteria and requirements and has awarded the Bayshore and Bayview with the following: environmental policy and actions for hotel operation; use of green products; collaboration with the community and local organisations; solid waste management; energy efficiency; water efficiency; and waste water treatment and management.
The above undertakings are just some of the Siam Hotels & Resorts notable endeavors to be one of the leading environmentally friendly deluxe hotel groups in the Thailand; which is dedicated to caring for its community.
---
The Sukosol Restaurant Awards
Kamon Japanese Restaurant & Steakhouse
Thailand's Best Restaurant 2002 - Thailand Tatler
My Favorite Restaurant 2002 - American Express
Thailand's Best Restaurant 2003 - Thailand Tatler
My Favorite Restaurants 2003 - American Express
100 Best Restaurant 2003 - Bangkok Bank
Thailand's Best Restaurant 2007 - Thailand Tatler
Thailand's Best Restaurant 2008 - Thailand Tatler
Thailand's Best Restaurant 2009 - Thailand Tatler
Lin-Fa Chinese RestaurantThailand's Best Restaurant 2002 - Thailand Tatler
My Favorite Restaurant 2002 - American Express
My Favorite Restaurant 2003 - American Express
Thailand's Best Restaurant 2006 - Thailand Tatler
Thailand's Best Restaurant 2010 - Thailand Tatler
Thailand's Best Restaurant 2011 - Thailand Tatler
Primavera RestaurantGrand Slam Restaurant 1990 - American Express
Patummat RestaurantMy Favorite Restaurant 2003- American Express