Healthcare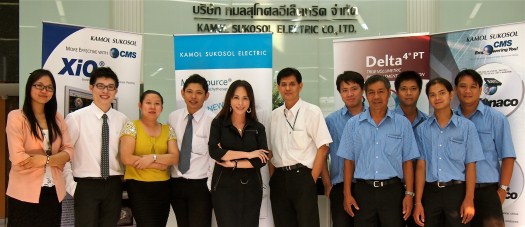 For over twenty years KEC has been supplying hospitals and clinics around the country with machinery vital in the fight against cancer and other non-communicable diseases.
KEC has acted as distributor for radiation therapy products and accessories for over 30 years. The company has consistently represented the Theratron Cobalt Teletherapy equipment brand for over 20 years. We are a leading player in the radiation therapy market in Thailand. Since 1988 we have installed 30 theratrons, we have 15 treatment planning systems in use and we've secured 25 service contracts nationally.
Recent successes include:
1 CyberKnife Robotics Radiosurgery system
3 Cobalt teletherapy systems
6 Cobalt source replacements
3 MultiSource HDR brachytherapy systems
5 CMS treatment planning & virtual simulation software
1 AnyScan S SPECT CT. 1st installation in Thailand
Pre-Sale Product Knowledge Support:
In addition to direct sales calls and onsite presentations, KEC participates in relevant domestic conferences. Clinical speakers and/or product specialists are brought in to discuss the featured product/technology.
KEC also sponsors a few key customers to attend international conferences such as ASTRO, AAPM, ESTRO, JASTRO and RSNA. The meetings allow customers to meet with manufacturers in order to learn more about their product lines.
For customers with a special interest in our products, KEC arranges overseas site visits where customers can meet with their counterparts and observe patient treatments.
Some of our top customers include the following: Lampang Cancer Center, Airforce Hospital, Lopburi Cancer Center, Lampang Cancer Center, Chulalongkorn Hospital, Siriraj Hospital, Ramathibodi Hospital, Thanyaburi Cancer Center, Ubon Cancer Center, Thai Irradiation Center, Ramathibodi Hospital, Vajira Hospital, Konkaen University Blood Bank, Bumrungrad International Hospital, Bhumibol (Airforce) Hospital, Chonburi Cancer Center, Bangkok Cancer Center Hospital, Thonburi Hospital, etc.
After-Sales Service:
KEC's reliable Service Team gives customers confidence in the products we represent. The Service Team bring with them extensive experience including factory certification from Varian Medical Systems, Pickers International and GE Medical Systems.
The Service Team consists of engineers and technicians who are factory-certified to provide after-sales service for the following products:
Theratron Cobalt Teletherapy
MultiSource HDR Brachytherapy
CyberKnife Robotics Radiosurgery
CMS Treatment Planning Systems
LAP CT SIM Lasers
Mediso Imaging Systems
Gammacell Blood Irradiators