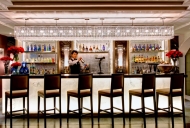 Come enjoy a 1920s 'speakeasy' with the most creative drinks and happening jazz in town!

Fabulous 'happy hour' from 5–7pm daily.
+ Find out more
Antiques
The Sukosol Collection
The grande dame of the Bangkok hotel scene is home to an unparalleled collection of rare, exquisite and valuable antiques from around Asia and the globe on public display.
Respectful of the hotel's location near several major palaces—opposite Suan Pakkad Palace, residence of the grandson of King Rama V, Prince Chumbhot Paribatra; two blocks east of Chitrlada Palace, HRH Princess Maha Chakri Sirindhorn's residence; and two blocks south of King Rama the V's country villa, Phayathai Palace—the hotel's lobby and Garden Pavilion courtyard reflect early 20th century palace architecture (as designed by the famous architect Ajarn Rangsan Torsuwan) as seen during the reign of King Rama V and VI, in which European and Thai elements were combined. In the lobby (on the feature wall behind the Reception desk) homage is also paid to Thailand's Great Kings (Ramkhamheang, Naresuan, Narai and Chulalongkorn) by way of the marble sculpture "Thailand's Great Monarchs" by Khun Kaimook Xuto, the personal sculptress to H.M. the Queen of Thailand.

Bent Severin & Associates, an international hospitality design company, echoed a similar concept in the interior decoration of the hotel, whereby Thai-style ambience is combined with early 20th century European Art Nouveau and Art Deco influences. Another important design element is the lotus blossom. Herein the hotel's owner, Kamala Sukosol, pays tribute to her father, "Kamol" Sukosol, whose name means lotus. For this reason decorative lotus motifs pervade throughout the lobby and ground floor of the hotel.

In recent times the company P49 Design & Associates were brought in to give the hotel an up-dated look. They successfully integrated a cosmopolitan, refined and classic facelift to the hotel's main entrance, lobby, reception, Sapphire Bar & Bistro, Lin-Fa Chinese Restaurant and public walkways in 2012.

An array of priceless antiques and collectables amassed by the owner, Khun Kamala Sukosol, and her son, Krissanda "Noi" Sukosol, can be found spread around this illustrious property, the most prominent being expertly displayed for the public's enjoyment at the grand staircase, Lin-Fa Chinese Restaurant, Primavera Italian Restaurant, Club Siam Lounge, executive suites, guest corridors, Patummat International Restaurant and Sapphire Bar & Bistro.

Hailing from Thailand are a 19th century golden teakwood display cabinet, benjarong ware from the Ayuthaya period, hun krabog puppets, a traditional Thai-style mural painting on canvas by Phaptawan Suwannakudt, daughter of the renowned Thai mural artist Tan Kudt, historical scenes on Rattanakosin Island by Ajarn Kosol Pinaku and a replica of the original 14th century "Sawankahlok" ceramic celadon plate from the Sukhothai period.

From abroad the hotel is pleased to feature a 20th century crystal chandelier from America, a mid-19th century Japanese cloisonné enamel vase, an Art Deco/neo-classical lamp from England, Burmese wooden sculptures from the mid-to-late 19th century, a Burmese kinnaree statue, Burmese Chest from the early 20th century, early 20th century Art Nouveau cabinet, sculpture and lamps from France and the spectacular roof in the centre of the main lobby is a recreation of a Victorian-style conservatory designed by the renowned American glassmaker Stephen Gormley.

Most impressive is the hotel's collection of antiquities from China, including Yuan Dynasty pottery, ancient carpets, a 19th century mother-of-pearl inlay cabinet, reproduction Qing Dynasty paintings on glass, 20th century sao ching cha pottery and pink vases, exquisite Ming Dynasty round plates and red enamelware and a Qing Dynasty horse sculpture copied from a Song Dynasty masterpiece, just to name a few!
The Siam Collection
The Siam is steeped in history and houses the private collections of owner Kamala Sukosol and her son, creative director Krissada Sukosol Clapp.
Each suite embraces a unique theme: from local architecture to beauty queens, music to military, diplomats to contemporary art while every public and private space highlights Thai life and culture through the ages, giving guests an intriguing talking point. The project is a new build, yet it features four historic, century-old Thai teakwood houses brought downriver from the ancient capital of Ayutthaya by former owner Connie Mangskau and her silk tycoon friend & fellow spy, Jim Thompson. Three of these have been turned into a signature Thai restaurant and cooking school while one has been refurbished as a unique pool villa, Connie's Cottage. The Siam is a turnkey project for Bensley Design Studios, who have crafted stunning spaces both indoors and out, to showcase our artefacts and to satisfy our guests' quest for the perfect, urban luxury resort.
| | |
| --- | --- |
| | |
At The Siam, you will experience a living museum. All the antiques on display have been collected over a period of more than 10 years by Kriss, a flea market fanatic who loves nothing more when home in Bangkok or on his travels than to seek out local antique stores and fairs.
The stunning cross-section of curios being used throughout the property ranges from the everyday to the extraordinary and includes: traditional Chinese opium daybeds & Burmese weathered wood columns in Pool Villas; French vintage velvet theatre seats in the private screening room; priceless Tang Dynasty figurines and Neolithic Thai pottery in the library and Siamese maps, books, posters and photos on display in individual suites and elsewhere. These antiques permeate every single private and public space, from rugs on floors to prints on walls and old wooden doors to chandeliers hanging from the ceilings.
The Explorer Bar & Lounge
Go back in time to an era of exoticism and romance. This mini-museum is filled with sunken treasure, curios, paraphernalia and more from the four corners of the globe.
The uniquely designed and fitted-out Explorer Bar & Lounge is a veritable mini-museum displaying a painstakingly collected array of precious antiques, artefacts, sunken treasure, ancient relics, old maps, curios, exploring equipment and paraphernalia from around Asia and the globe. The brainchild of Kamala Sukosol and her youngest son, Krissada "Noi" Sukosol Clapp, the bar pays tribute to the tourists, travellers and explorers who survived a turbulent century and witnessed the world like no other. They journeyed on ships of yesteryear, returning with a head full of dreams and a pocket full of knick-knacks.

An unbelievable plethora of curios from around the globe are on display for visitors young and old to enjoy. Of particular interest are Thai daily household tools and belongings, along with sunken treasures from China and Ayutthaya, Thailand's ancient capital city. Furniture and ornaments take pride of place, such as a 1920s Sino-Thai herbal medicine cabinet, baskets from Mozambique, Tanzanian fabrics, vintage weaponry, magnifying glasses made of horn and ivory, Naga tribal spear and, Burmese antique mah jong tables. There are, of course, essentials for ship travel too: an English deep-sea divers mask, a cast iron chest, a naval telescope and compass. Lastly, there is a glorious canal boat from Thailand's famous Floating Market, make famous in the 1974 James Bond film The Man with the Golden Gun. Bangkok was once dubbed as the "Venice" of South-East Asia and such a boat was very much a part of everyday life, selling everything from fresh market food to clothing, toys and whiskey.