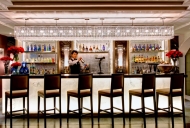 Come enjoy a 1920s 'speakeasy' with the most creative drinks and happening jazz in town!

Fabulous 'happy hour' from 5–7pm daily.
+ Find out more
Publications
When words are published, stories are told. Although our list is not that extensive, the books released by members of the Sukosol family have been an inspiration for many. Everything from tips, advice and life lessons learned to mistakes, experiences and aha! moments are shared. Get to know how the world of Sukosol one word, one picture at a time...
Bakery & I (2007)
Learn how at the tender age of 22 with some friends, Sukie Sukosol started one of Thailand's most iconic, beloved and successful independent record labels: Bakery Music.

Kamol "Sukie" Sukosol Clapp the man who co-founded indie record label Bakery with three pals when he was just 22. Bakery became wildly popular, charting with the likes of Modern Dog, Joey Boy, Pause and Yokee Playboy, but after 10 years, the sheer business of being a business executive sapped Kamol's passion for music. He and his friends kissed Bakery goodbye in 2004. Since then he's found a happy ending, as the star and producer of "Dreamchaser", a show on TITV that's precisely about what he thinks people should do. The show lets him roam the country on a motorcycle, tracking down those who pursue dreams and catch them. Read all about it in Kamol's new book, Bakery & I. It's not a lament—in fact he hopes it will inspire people to follow their dreams.

The book is no longer available in-store but can be purchased (Bht 190) on backorder from any major book store or by contacting sukie@sukosolhotels.com.
Marisa... The Love Album (2010)
Marisa shares her life lessons and how she's bale to 'have it all' and balance her work demands, family time and creative ambitions.

Marisa... The Love Album is a collection of stories from the heart, filled with real-world examples and personal perspectives from people who have direct experiences with life's various challenges and joys. Petchyupa Buranasirijrungrath tells the story of Marisa's life in all its colourful glory, from childhood, through studies abroad, working in Thailand and getting married. The reader learns how the hotelier, wife, mother, recording artist, philanthropist, brand ambassador, motivational speaker and Thai hospitality/tourism board member has learnt to cope and succeed at her various roles. Explaining how love of work, family, singing, friends and colleagues has helped make her life full and meaningful.

Despite being an "artiste" at heart Marisa followed in her mother's footsteps to become a corporate executive (Sukosol Hotels) in the family business. Taking her own determined and artistic mother as an example, Marisa managed to find her groove by approaching work with a sense of sincerity and dedication. By turning her artistic temperament to hear advantage she was also able to invigorate her private life, and she talks about her love, devotion and gratitude for her husband, Dr Surachart, and two boys, Matthew and Michael. She also speaks about her unfailing love and pursuit of music and singing, and how these two great passions have been both her rock and guiding light throughout her life.

To complement Marisa's own insights are those of her family—sister, Daranee Sukosol Clapp; brothers, Kamol "Sukie" and Krissade "Noi" Sukosol Clapp; mother, Kamala Sukosol; and husband, Dr Surachart Nunbhakdi, speaking about their own personal and professional struggles, like raising children, handing a family business, discovering new life goals, balancing artistic and pragmatic pursuits and making a marriage succeed.

The book is still available at all leading book stores for Bht 195.
Kamala Sukosol's Floral Standards (2014)
Renowned as a lady of style, taste and flair, Kamala Sukosol shares here her tips on being the perfect hostess and how flowers can enhance and enliven any social occasion.
The inimitable Kamala Sukosol is a renowned hotelier, businesswoman, jazz singer extraordinaire, philanthropist, mother, grandmother, and, last but not least, hostess whose dinner invitations are highly coveted. For her being the perfect host means having a beautiful setting for her events, whether they are held at one of her hotels or in the privacy of her well-appointed home. Kamala is a lady who not only takes pride in, but also thrives on, the idea of a table that has character, that sparkles, not unlike herself. Every single detail has to be well thought out, every single vase, flower and item of tableware has to be personally selected for each particular function, with the occasion and the guests in mind at all times.

This book is a tribute to the floral magic that Kamala casts at all her private and public functions. It is a tribute to a lady to whom beauty enhances one's enjoyment of life, to whom a skilfully decorated table enhances one's enjoyment of the meal. And in typical Kamala Sukosol fashion, there is no project of hers that does not serve to help others. Besides gaining an insight into the mind of one of Thailand's most remarkable women and picking up decorating tips to be emulated in the home. Most importantly, everyone who buys a copy of this book will be directly contributing to a most worthy cause that is close to Kamala's heart. All proceeds from this book will go directly to the Ramathibodi Foundation's Parent-to-Child Liver Transplant campaign, to help save the lives of babies born with congenital defects that would otherwise cut short their young lives within a couple of years.

This book is currently available from Asia Books for Bht 1,490 nett, as well as at The Sukosol, Bangkok.