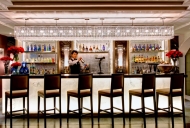 Come enjoy a 1920s 'speakeasy' with the most creative drinks and happening jazz in town!

Fabulous 'happy hour' from 5–7pm daily.
+ Find out more
Giving Back
Charity
The Sukosol Group, and Sukosol family (led by Khun Kamala Sukosol) in particular, have long been synonymous with charity work in the Land of Smiles. Besides putting on regular charity concerts, art exhibitions and other fundraising events, the family are ambassadors for a range of causes, including the Ramathibodi Foundation's Liver Transplant from Parent-to-Child Program, the Chulalongkorn Craniofacial Centre and Friends of the Asian Elephant Foundation (FAE). Not to mention that they help out respected international aid organisations like the Thai Red Cross and UNICEF on an ad hoc basis, such as when Thailand was hit by devastating floods in late 2011.
Over the years, Khun Kamala's annual charity concerts have supported many worthy charities, including, but not limited to, the following: Queen Sirkit Centre for Breast Cancer; Craniofacial Centre, Thai Red Cross Society; Eye Centre Project, Queen Sawangwattana Memorial Hospital; Tsunami Relief Effort; Kuadarun (Support the Children) Foundation; Organ Donation Centre, Thai Red Cross Society; Queen Sawang Wadhana Hospital; Baan Tawan Mai; Chaipattana Foundation; Oncological (Cancer) Society; Duang Prateep Foundation (DPF); Thai Medical Women's Association; and Cardiac Children's Foundation of Thailand. Indeed, such has been Kamal's generous time and effort towards helping those less fortunate that in 2009 she was named as one of Forbes Asia's "48 Heroes of Philanthropy".
Going Green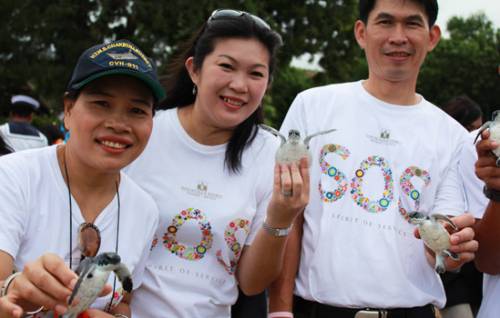 Environmental awareness is part of our culture at the Sukosol Group. We are committed to "Going Green" and reducing our carbon footprint as the sustainability of our environment is extremely important to every Sukosol employee.

To date all properties in the Sukosol Hotels portfolio have been awarded the Green Leaf Certificate by the Green Leaf Foundation for their ongoing environmental work. They are also the proud recipient of the Total Energy Management (TEM) Award—bestowed on hotels with an exemplary record in energy consumption and concern for the environment. Not to mention that the Siam Bayshore Hotel and The Bayview Hotel in Pattaya have both been awarded the ASEAN Green Hotel Award by the ASEAN Tourism Forum. In the future the Sukosol Hotels portfolio also plans to join and actively partake in the international Green Globe initiative.

At the Sukosol Group, the owners, staff and management are firmly committed to protecting the environment and consistently upgrading the "green" standards of all of its businesses. Each of the group's five divisions has an Environmental Committee which regularly organises training and awareness activities for staff and the local community. In 2011 we participated in tree planting, office recycling, growing and purchasing local produce, Earth Hour, World Environment Day, beach clean-ups, car-free day and Save Energy Day, just to name a few.

We invite all our guests, clients, partners and suppliers to be a part of our effort to save the environment for a cleaner and brighter future. By thinking green, we can all change the world one thought, one action at a time. Thanks for joining the Sukosol Group in our unique efforts to "green" the Land of Smiles!