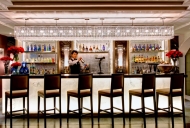 Come enjoy a 1920s 'speakeasy' with the most creative drinks and happening jazz in town!

Fabulous 'happy hour' from 5–7pm daily.
+ Find out more
History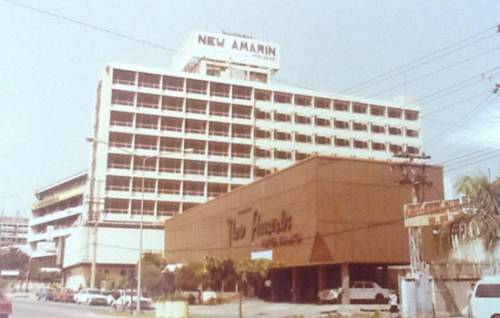 From 1939 to the present day read on to learn how the Sukosol Group has diversified into five divisions and overcome many obstacles on its road to success.

Although not officially incorporated until 1949, the Kamol Sukosol Company was founded in 1939 to trade in G.E. radio sets (just twelve in the first transaction!) and electrical appliances. In a short amount of time the company grew to have 22 showrooms in Bangkok and its surrounding provinces. Less than a decade on, the company become G.E's sole distributor in Thailand.

After the war years the group's activities started to grow steadily. With each passing year, new product lines and agencies were being added. Our scope of activities spread from household appliances to electrical and engineering equipment, air conditioning, motor vehicles, manufacturing, hotels, financing and real estate. So it was in the mid-1950s that the group began importing foreign cars for local consumption, chief among them being the American Studebaker, English Triumph and Singer, Dutch DAF and German N.S.U. Although this venture was mildly successful, it was not until 1959 when the sole distribution rights for Mazda vehicles from Japan was obtained that the group's automobile endeavour really took off. Indeed, the car sector became so profitable that in 1974 the Sukosol Group and Mazda Motor Industry set up a joint venture manufacturing cars and pick-up trucks at an assembly plant in Bangchan.
At around this time, circa 1973, the Kamol Sukosol Industries Co., Ltd. was established with a factory on the Superhighway producing K.E.C white goods like refrigerators and water coolers for the local market. A little later on diversification occurred again, this time with the Eastern Chemical Co., Ltd. being established to produce refined alcohol for the Japanese whisky market. In the years to come the group will also commence dealings with South Korea, predominately with Samsung Electronics Co., Ltd. and Kia Master Vehicles.

From vehicles the group spring boarded into the construction, tourism and real estate sectors, with two of the company's most iconic and long-standing properties—Esmeralda apartment building in Bangkok and the Siam Bayshore Hotel in Pattaya—being established in 1975. It was also in the mid-1970s that the group segued into the insurance and finance sectors with the establishment of the Kamol Sukosol Investment & Trust Co., Ltd. and Kamol Sukosol Insurance Co., Ltd. With the advent of hotels and other activities, greater advertising and promotional work was required. Thus, Impact Advertising Co., Ltd. was formed in 1976 to serve the group's marketing and promotional needs.

In the mid 1990s and early 2000s the group added music to its portfolio with their independent record label, Bakery Music, becoming Thailand's most successful one. Over the following decade they signed and produced many of Thailand's most popular bands and singers, including Modern Dog, Pru, Joey Boy, Pause and Yokee Playboy. However, following the economic meltdown of 1997, 50 per cent of the label was sold to BMG, and later when BMG merged with Sony, the group's remaining stake in the label was relinquished.

The was also a busy time in the group's hotel sector, for in 1983 they built the Siam Bayview Hotel, Pattaya and the Siam City Hotel (now The Sukosol), Bangkok in 1990. A long hiatus then ensued, to be broken shortly with the addition of two new properties: The Siam, a small luxury property on the Chao Phraya River in Bangkok, debuting in June 2012; and Wave, a small Miami-inspired property on Beach Road in downtown Pattaya, opening in January 2013. With these two hotels under its wing the group's hotel division will blossom to five unique properties in two of Thailand most vibrant and popular cities.

Nowadays the group's interests are more consolidated and it's focussing exclusively on its proven strengths and new endeavours. For example, the importing and manufacturing activities are currently centred solely on medical, audio, dehumidifier and kitchen equipment, it's no longer dealing in vehicles. The group has also scaled back on its more diverse entities, such as finance, manufacturing, travel and electronics. However, recently the group has expanded to include a few new areas of focus which are of particular interest the group's third generation of overseers, such as event production, dental care, antiques dealing, destination restaurants, adventure travel, media publishing and so on...