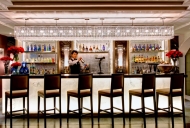 Come enjoy a 1920s 'speakeasy' with the most creative drinks and happening jazz in town!

Fabulous 'happy hour' from 5–7pm daily.
+ Find out more
Discover how the family owned and Sukosol Group has expanded, adapted and matured since its auspicious beginning in 1939.
Steeped in tradition and inspired by innovation, every Sukosol product, service, property and event comes from our family to yours. Welcome to the Sukosol Group, a privately owned conglomerate since 1939.
During the course of the Sukosol Group's 73-year history, what originally started out as a consumer electronics business in Bangkok has developed into a highly diversified enterprise. The Sukosol Group is nowadays divided into five divisions: hotels, trading, living, properties and entertainment. These five diverse entities represent the varied skills, interests, passions and knowledge of the owning family who oversee its day-to-day running and guide its future development.
Currently the combined registered capital of this wholly owned Sukosol Group of companies has a book value of over 1 billion Thai baht; and its assets have a combined market value of over 6 billion Thai baht. The Sukosol Group is one of only a handful of select companies in Thailand to have had the Royal Warrant of Approval bestowed on it by His Majesty King Bhumibol Adulyadej for providing exceptional service and commitment to the economic and social development of the Thai nation. The warrant was bestowed in 1970 and the Royal Garuda Symbol now hangs over the group's headquarters on Mahachai Road