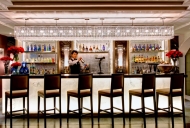 Come enjoy a 1920s 'speakeasy' with the most creative drinks and happening jazz in town!

Fabulous 'happy hour' from 5–7pm daily.
+ Find out more
Travel
The Big Gorilla Tour — Taking the Road Less Travelled
Life is a journey and with this tour intrepid travellers can traverse the back roads of Thailand discovering marvels and experiencing beyond the well-worn tourist trail.
For Kamol "Sukie" Sukosol Clapp, founder of indie record label Bakery Music, and current star/presenter of the popular Dreamchaser TV series, life is all about taking the road less travelled. And that's why his latest endeavour, The Big Gorilla Tour, is a merging of his two passions: motorcycling and photography. He offers exclusive motorcycle tours on the scenic off-road routes that pepper the magical Kingdom of Thailand landscape. Sukie's tours are renowned for showing enthusiasts another side to this most fascinating, beguiling and enchanting country. There really is no better way to experience the real Thailand than on two wheels. Breathtaking scenery, thrilling outback trails, local charm and unexpected adventures are all par for the course on one of these unique trips. Those with an eye to photography will be overwhelmed with the wealth of amazing vistas at their fingertips.