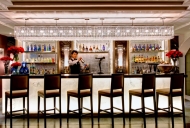 Come enjoy a 1920s 'speakeasy' with the most creative drinks and happening jazz in town!

Fabulous 'happy hour' from 5–7pm daily.
+ Find out more
Terms
LEGAL NOTICE
Please read the following terms and conditions carefully before using this website
THE MATERIAL IS PROVIDED BY SUKOSOL GROUP AS A SERVICE TO OUR CUSTOMERS AND MAY BE USED FOR INSTRUCTIVE PURPOSED ONLY. BY ACCESSING USING, VIEWING, TRANSMITTING, CACHING OR STORING THIS WEBSITE OR ANY OF ITS SERVICES, FUNCTIONS OR CONTENTS, YOU SHALL BE DEEMED TO HAVE AGREED TO EACH AND ALL THE TERMS, CONDITIONS AND NOTICES IN THIS WEBSITE WITHOUT MODIFICATION. IF YOU DO NOT AGREE, PLEASE CEASE USE OF THE WEBSITE AND LEAVE IMMEDIATELY.
Use of Website
The services of this website are available only to individuals who can form legally binding contracts under applicable law, and thus, are not available to minors. By using this website, you represent that you are of sufficient legal age to use this website and to create binding legal obligations for any liability you may incur as a result of the use of this website. You also warrant that you are legally authorised to make the travel reservations and/or purchases for either yourself or for another person for whom you are authorised to act.
You may only use this website to make legitimate reservations or purchases and shall not use this website for any other purposes, including without limitation, to make any speculative, false or fraudulent reservations, or any reservation in anticipation of demand.
This website is to be used by you for your personal use only. Commercial uses of this website are strictly prohibited unless prior written consent from Sukosol Group has been granted. You agree that you will not use this website for chain letters, junk mail, "spamming", solicitations (commercial or non-commercial) or bulk communications of any kind including but not limited to distribution lists to any person who has not given specific permission to be included in such a list. In addition, you agree not to create a hypertext link from any website controlled by you or otherwise, to this website without the express written permission of Sukosol Group. You agree not to pretend to be any other person or a representative of any entity, whether actual or fictitious, including an employee or agent of Sukosol Group or any third party that provides services related to this website.
You agree that you will not use any robot, spider, other automatic device or manual process to monitor or copy the website or any contents or information contained therein, unless you obtain Sukosol Group' prior express written consent. You agree that you will not through any means interfere or attempt to interfere with the proper functioning of the website. You agree that you will not provide to Sukosol Group and/or to this website: (i) any viruses, worms, time bombs, and/or other computer programming routines that are intended to damage, detrimentally interfere with, intercept or expropriate any system, data or information; and (ii) any content that may create liability for Sukosol Group or cause Sukosol Group to lose (in whole or in part) the services of our suppliers.
Proprietary Rights Information
This website contains and references trademarks, patents, trade secrets, technologies, products, processes or other proprietary rights of Sukosol Group and/or other parties. No license or right to or in any such trademarks, patents, trade secrets, technologies, products, processes and other proprietary rights of Sukosol Group and/or other parties is granted to or conferred upon You. Reproduction or storage of materials obtained from this website is subject to the Thai Copyright Act B.E. 2537 (1994). No material from the website may be reproduced, distributed, posted, displayed, uploaded or transmitted. The use of any material from the website on any other internet, intranet, web or other site or computer environment is prohibited. You may not utilise framing techniques to frame any Sukosol Group trademarks, logos, or other proprietary information (including images and text). You may not use any meta tags or any other "hidden text" utilising our name, trademarks or other proprietary information.
Trademarks
This website contains valuable trademarks owned by Sukosol Group to distinguish its services and wares. Certain names, words, titles, phrases, logos, icons, graphics or designs in the pages of this website may constitute trade-names, trade-marks or service marks of Sukosol Group Inc. Sukosol Group®, The Sukosol®, The Siam®, The Bayview®, Siam Bayshore®, Wave®, Beautiful Inside & Out®, Sukosol Moments® and other Sukosol Group logos and product and service names are trademarks of Sukosol Group. These trademarks and related proprietary property are protected from copying and simulation under national and international laws and may not be reproduced, copied or otherwise used without the express prior written permission of Sukosol Group. Sukosol Group reserves the right to take legal action against any unauthorised use of the trade-names, trademarks and images of Sukosol found on this website. Other trademarks not owned by Sukosol Group and referenced on this website are the property of their respective owners.
Copyright
The information, text, graphics, images, sounds, links and all other software and information published or otherwise contained on this website (the "Contents") are owned by, or licensed to, Sukosol Group and, except as specifically provided herein, may not be copied, distributed, displayed, reproduced or transmitted in any form or by any means, electronic, mechanical, photocopying, recording, or otherwise, without the prior written permission of Sukosol Group. Copyright © 2012 Sukosol Group Limited. All rights reserved.
You are free to download the material posted on this Website for non-commercial purposes, to store it temporarily on a single computer, and to print it solely for your own personal purposes. You agree that you do not acquire any ownership rights in any downloaded content. You may not distribute copies of the material for any purpose or 'frame' it in any site you create or operate. You agree to abide by all copyright notices, information and restrictions contained in any content on this Website.
Any unauthorised downloading, transmission, republication or other copying or modification of material posted on this website, including trademarks, trade names and service marks, may violate federal, common or civil law trade—mark law and copyright law, and may result in legal action.
Software
Any software that is made available to download from this website ("Software") is the copyrighted work of Sukosol Group and/or its various third party licensors. Your use of the Software is governed by the terms of the end user license agreement, if any, which accompanies or is included with the Software ("License Agreement"). You may not install or use any Software that is accompanied by or includes a License Agreement unless you first agree to the License Agreement terms. Please note that copyright laws and international treaty provisions protect all Software. Any reproduction or redistribution of the Software is expressly prohibited by law, and may result in severe civil and criminal penalties. Violators will be prosecuted. Without limiting the foregoing, copying or reproduction of the Software for further reproduction or redistribution is expressly prohibited. Any warranty applicable to the Software will be specified in the terms of the License Agreement. You acknowledge that the Software and any accompanying documentation and/or technical information are subject to applicable export control laws and regulations of the Kingdom of Thailand. You agree not to export or re-export the Software, directly or indirectly, to any countries that are subject to Thai export restrictions.
Disclaimer of Warranties
Sukosol Group has compiled the information on this website for the use of guests, prospective guests and travel professionals. The information, material and software algorithms contained in this website or which may be downloaded from this website, including text, graphics and hyperlinks, are provided 'as is' and 'as available'.
The information and material contained in this website are believed to be accurate and complete at the time of their posting. Although Sukosol Group attempts to ensure that all information and material remain current and accurate, they are subject to change without notice and Sukosol Hotel does not warrant their accuracy, completeness and currency at all times. In addition, Sukosol Hotel does not warrant the accuracy, adequacy or completeness of software algorithms and expressly disclaims liability for errors or omissions in any software algorithms.
No warranty of any kind, implied, express or statutory, including but not limited to warranties as to non-infringement of intellectual property rights or third party rights, title, latent defects, uninterrupted service, merchantability, fitness for a particular purpose and freedom from computer viruses, is given in conjunction with the information, materials and software algorithms.
Exclusion of Liability
In no event will Sukosol Group be liable for any damages, including without limitation, direct or indirect, special, incidental, moral or consequential damages, loss of profits, opportunities or information or for expenses arising in connection with this website, any software algorithms available on this website, nor with any hyperlinked website or for the use of or the inability to use such material, software algorithms or hyperlinked website by interruption, defect, delay in operation or transmission, computer virus or line or system failure, even if Sukosol Group is advised of the possibility of such damages, losses or expenses. Software algorithms made available and hyperlinks to other Internet resources are at your own risk. The content, accuracy, opinions expressed, and other links provided by these software algorithms and resources are not investigated, verified, monitored, or endorsed by Sukosol Group.
No Unlawful or Prohibited Use
As a condition of your use of this website, you warrant to Sukosol Group that you will not use this website for any purpose that is unlawful or prohibited by these terms, conditions, and notices. Although Sukosol Group may from time to time monitor or review comments, postings, transmissions, blog posts, and the like on this website, Sukosol Group is under no obligation to do so and assumes no responsibility or liability arising from the content of any such locations nor for any error, defamation, libel, slander, omission, falsehood, obscenity, pornography, profanity, danger, or inaccuracy contained in any information within such locations on the Website. You are prohibited from posting or transmitting any unlawful, threatening, libellous, defamatory, obscene, scandalous, inflammatory, pornographic, or profane material or any material that could constitute or encourage conduct that would be considered a criminal offense, give rise to civil liability, or otherwise violate any law. Sukosol Group will fully cooperate with any law enforcement authorities or court order requesting or directing Sukosol Group to disclose the identity of anyone posting any such information or materials
Links to Third Party Websites
Fairmont does not control any third party website and is therefore not responsible for the content of any linked website or any link contained in a linked website. Sukosol Group provides such links only as a convenience to you and the inclusion of any link does not imply endorsement, investigation or verification by Sukosol Group of the linked website or any information contained in it.
Communications
With respect to all communications made to Sukosol Group including, without limitation, feedback, questions, comments and suggestions ("Communications"): (a) no right of confidentiality shall apply to Communications and Sukosol Group shall have no obligation to protect Communications from disclosure; (b) Sukosol Group shall be free to reproduce, use, disclose and distribute Communications to others; and (c) Sukosol Group shall be free to use any ideas, concepts, know-how or techniques contained in Communications for any purpose whatsoever, including, without limitation, the development, production and marketing of products and services that incorporate such information.
Please use e-mail only to send us non-confidential notes. Do not include confidential personal or private information. For your protection, our responses will not include any confidential information. Please do not use e-mail to send us transaction instructions. Customers who choose to send e-mail messages to Sukosol Group that contain confidential, private or personal information do so entirely at their own risk.
For further information, please write to:
Sukosol Group
Executive Offices
477 Si Ayuthaya Road
Phayathai, Bangkok Thailand, 10400