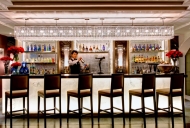 Come enjoy a 1920s 'speakeasy' with the most creative drinks and happening jazz in town!

Fabulous 'happy hour' from 5–7pm daily.
+ Find out more
Philosophy
Mission
To deliver quality products and services for better living
Mantra (motto)
We Put the Art in Business
Vision
Our vision serves as the framework for our various endeavours and guides every aspect of our business by describing what we need to accomplish in order to continue achieving sustainable, quality growth.
Be a great place to work where people are inspired and motivated to be the best they can be.
Bring to the world a portfolio of wellbeing, hospitality and lifestyle products that anticipate and satisfy people's desires and needs.
Nurture a winning network of partners with whom we create mutual and enduring value.
Be a highly productive, committed, efficient and agile company.
Make a difference in the world by helping build and support sustainable communities through charity.
Maximise growth and sustain profitability for the long-term.
Find the right balance between business, art and humanity.
Value
Our values serve as a compass for our actions and describe how we behave in the world.
Integrity – is at the core of our business because it's who we are
People – are the strength and greatest resource of our company
Humility – is the basis of all that we accomplish and want to become
Passion – drives us to be the best and most creative at what we do
Four things we live by:
1. Work from humility and the rest will fall into place.Whether we're opening a new hotel or sourcing hospital equipment, we take great care to ensure that we ultimately serve you. We also work hard to keep our two feet firmly planted on the ground and pay our dues forward by way of gratitude, generosity and giving back to our community.

2. Great people are what drive us onwards and upwards.We know and appreciate that 'the whole is always greater than the sum of its parts'. Therefore as a synergised team we strive to work together for the greater good, respect and prosperity of all. We empower and support all individuals and groups who work towards making us a superior company.

3. True integrity is the crux of all our business endeavours.As we trust and respect others, we expect the same in return. Like all businesses we want to succeed, but not at the expense of our integrity and morals. We believe that honesty breeds trust and this is the cornerstone of developing and maintaining successful business relationships. We don't cut corners and we are fair at all times. This is how we stand by the "Sukosol code" each and every day.

4. Without passion we are doomed to mediocrity and inferiority.Anybody can own and run a business; we want to do more. We strive to bring our various passions to the forefront of all our endeavours. From art, design and architecture to music and philanthropy, we want everything we offer to be a true reflection of our Sukosol spirit. Beyond dedication, resourcefulness, innovation, we strive to be dynamic and joyful in everything that we do and we hope to inspire and nurture the same in all our employees.