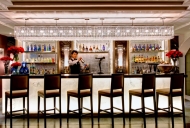 Come enjoy a 1920s 'speakeasy' with the most creative drinks and happening jazz in town!

Fabulous 'happy hour' from 5–7pm daily.
+ Find out more
Music
The Sukosols are perhaps most synonymous with music: be it Kamala's jazz crooning, Sukie's Pru rockin', Marisa's soulful serenading or Noi's artful lyrics.
Over the years, the family has amassed a grand collection of recordings, from big band jazz and arias to classic rock and pop. Kamala's albums alone number over 30, PRU's back catalogue is all highly collectible and Marisa's are one-of-a-kind gems.

Kamala continues to release two albums annually, one as a giveaway to friends at her annual birthday party bash and the other in for sale in collaboration with her annual Red Cross charity concert.

Noi is also on the verge of releasing her first solo album which will feature 14 tracks of his own writing (lyrics and music). The highly anticipated recording has been three years in the making and marks the star return to mainstream music.