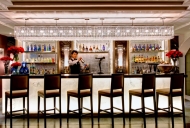 Come enjoy a 1920s 'speakeasy' with the most creative drinks and happening jazz in town!

Fabulous 'happy hour' from 5–7pm daily.
+ Find out more
Dining
Lin-Fa — The Legend Lives On...
Bangkok's home of chic, contemporary Cantonese dining in sumptuous surrounds is a firm favourite of local royalty, politicians, dignitaries, celebrities, socialites and gourmets.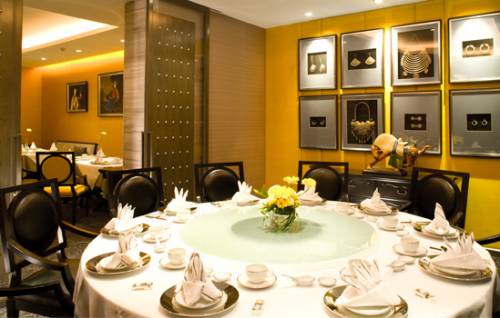 Since opening its doors in 1992, Lin-Fa has established a reputation for excellence and innovation. The restaurant's cuisine and elegant atmosphere has become a beacon for Bangkok royalty, politicians, dignitaries, celebrities, socialites and gourmets. In the more than 18 years since it began, the restaurant has extended its reputation far beyond its hotel guests. Thanks to its savoury dim sum and other Cantonese delicacies, the restaurant has become a favourite haunt for locals wanting a hearty get-together meal with colleagues, friends and family.

Winner of multiple awards, including Thailand Tatler's "Best Restaurant 2011", Lin-Fa is undeniably considered one of the best Chinese restaurants in Bangkok. Founded on the basis of imperial and Cantonese cuisine, the restaurant's signature dishes include Peking duck, dim sum, Sichuan hot and sour soup, Hong Kong-style barbecued suckling pig, shark's fin soup and pan-fried prawns in sweet cream sauce. In particular, the restaurant is giving traditional Cantonese cooking, based on seafood, a contemporary approach. The extensive menu reflects this with typical Chinese ingredients like abalone and tofu sitting alongside Western delicacies like foie gras and caviar. Diners can typically choose from 40 dim sum dishes, 10 set menus, 120 main dishes and eight dishes on the chef's monthly Selection List.

Re-vamped in 2008, the restaurant's interior morphed from luxurious Chinese teahouse to contemporary dining room with a more chic and cosmopolitan look. Stylish chrome and glass panels blend beautifully with dark wood furniture and marble pillars. Softened by silk cushioned walls and graceful floral motifs as well as beautiful Chinese paintings and oriental art. The overall ambience is spacious, airy, bright and elegant; with the enchanting and ambient setting harking back to a romantic and refined bygone era.

The spacious restaurant can seat 189 people in its main dining area and ten private rooms, seating 10–40. A special 15–seat Executive Conference Room is complete with modern facilities like an LCD projector, enabling guests to conduct meetings while enjoying a gourmet lunch or dinner. Open seven days a week, from 11:30 until 14:30 and 18:00 until 22:30, Lin-Fa accepts booking for business and social gatherings.