Kitchen
Food is universally loved and at KEC we are proud to offer consumers a range of professional commercial kitchen equipment suitable for the hospitality industry.
KEC distributes commercial kitchen products for large professional kitchens, ranging from hotels and hospitals to canteens, restaurants and professional cooking schools. We are the sole distributor of the award-winning Zanussi Professional range of cooking equipment and accessories from Italy. In addition, we also distribute ice-makers under the illustrious Icematic brand name and are authorised to sell and service the Electrolux Professional line.
Products included cooking, food preparation equipment and service line for:
Hotel
Restaurants
Airline kitchens
Hospitals
Factories
Universities
Show Kitchen
KEC's entire range of commercial kitchen products are designed to help reduce processing time and promote the efficient utilisation of food preparation spaces in busy kitchens. Products are sold to the consumer directly by our sales team and through commercial kitchen consultants. KEC also provides consultation services to our customers, whereby we advise on efficient kitchen design and optimal space utilisation. In order to help customers optimally integrate the large machines into their professional kitchen, KEC also operates a stainless steel factory which assembles work tables, cupboards, sinks, shelves and racks according to each customer's specific needs. Recent customers include Sofitel Angkor Phokeetara Resort, various airports around Thailandand Mahidol University International College.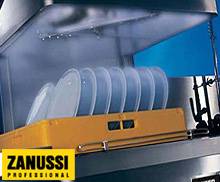 Zanussi
Zanussi offers innovative solutions to the most demanding, most intensive users of food service equipment. The first thirty years of Zanussi, as it was then, reflects the complex and exciting process of the founding of Italian industry dominated by two devastating world wars, and, by the pioneering spirit and courage of entrepreneurial intuition which laid the foundation stones of Italian industry. In 1916, Antonio Zanussi, a young labourer who repaired stoves and wood-burning kitchen ranges in a small workshop in Pordenone, in the middle of a world war, with no other capital than brilliant intuition, distinct talent and burning enthusiasm, opened his business in Pordenone: Officina Fumisteria Antonio Zanussi.
Zanussi Professional aims to give a better and more creative working environment to millions of chefs worldwide. The brand offers a range of over 3000 dedicated products for food preparation, cooking, ventilation refrigeration and dishwashing. The complete Zanussi Professional range is designed to make life easier, food tastier and cleaning up quicker, whilst also helping to protect the environment.
Zanussi Professional is a unique reference point to help the customer create his/her perfect kitchen, enabling Italian gastronomic culture to be interpreted at its best around the world.
+ Find out more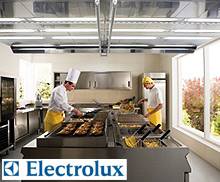 Electrolux
Electrolux Professional is one of the world leaders in the manufacturing and distribution of professional solutions aimed at the Catering and Hospitality sector. Creator of professional kitchensThanks to the most extensive range of products for cooking, preservation, food preparation, dish washing, waste disposal and fabric treatment, the Company has concentrated its efforts in developing innovative products designed to satisfy the most demanding Clientele, with Brands that have become, over time, synonymous with reliability, safety and sustainability. Choosing Electrolux Professional means being able to rely on a Client-focussed organisation.Its extensive worldwide network of sales and technical service partners, as well as a network of highly qualified collaborators, engage daily over multiple fronts: consulting, designing, installation and maintenance.
Electrolux is the only company in the world able to provide complete, high performing professional kitchens of one brand.Individually, Electrolux' innovative products meet the needs of even the most demanding customers. Together, they become highly efficient systems that guarantee excellent results, productivity, hygiene and low operating cost.
Choosing for an Electrolux professional kitchens kitchen means having access to the largest global network of highly qualified sales and service partners available.