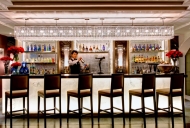 Come enjoy a 1920s 'speakeasy' with the most creative drinks and happening jazz in town!

Fabulous 'happy hour' from 5–7pm daily.
+ Find out more
Entertaining others with great live shows is at the heart of the Sukosol experience. From intimate family shows to blockbuster concerts with celebrities, we do it all!
The Sukosol family are well known for their annual concerts that raise funds for charity. Over a 30-year period, Kamala Sukosol and her talented children—Marisa, Daranee, Kamol "Sukie" and Krissada "Noi"—have raised over 70 million Thai Baht for various Thai charities through these shows. In particular they are ambassadors for the Chulalongkorn Craniofacial Center and the Ramathibodi Foundation's Parent-to-Child Liver Transplant campaign. The family is widely respected and admired for hosting an annual (usually November) charity concert over three nights with 100% of proceeds from seat and album sales going to the Thai Red Cross Society.

On an even bigger scale, from his days as co-founder and manager of the indie record label Bakery Music, Sukie is most proud of organising the 10th anniversary B-day Concert for a crowd of 50,000 ardent fans at Bitec Arena that lasted seven hours and saw some of Thailand's top talent, including his own mother!, perform. Nowadays Sukie is no-longer running a record label, having sold to BMG Sony, but he runs Creative Events Management, which is set to host a number of exciting events in the coming months and years.