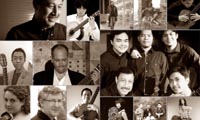 Asia International Guitar Festival
BANGKOK, Thailand (May 9 , 2 012 ) — The Sukosol and Thailand Guitar Society are once again proud to present South- East Asia's finest assembly of international guitar p layers, makers and enthusiasts . Now in its sixth illustrious year, the Asia International Guitar Festival & Competition is surely the biggest and most vibrant event for classical guitar aficionados and music love rs in the region. This year's agenda includes master classes, guitar exhibits, competitions and concerts by acclaimed world-class musicians hailing from Asia, the Americas and Europe.
A varied program sees four days of activities, each day culminating in a concert by one or more celebrated guitar maestros. Opening night will feature a "gypsy" medley by Galina Vale, Sakol Siripipattanakul, Tana Suebsiri Woratep Rattana-umpawan, Leon Koudelak and Shinobu Sugawara. Days two and three will see the talented Galina Valeand Sachiko Miyashita play solo respectively. The festival will then conclude on a very high note, with a duo concert by the world renowned players: Yavet Boyadijev (violin) and Paul Cesarczyk (guitar). Other highlight performances include those by the Wong-Kojorn Guitar Quarter from Thailand and the University of the Philippines Guitar Quintet. The event will also feature a guitar competition open to all, with the winner receiving a free guitar, case, string sets, certificate and performance rights at four prestigious events.
Other internationally-acclaimed guests include Chavajed Mas kulrat (Thailand), Lester Demetillo (Philippines), Leon Koudelak (Swiss /Czech), Pongpat Pongprad it (Thailand), Koki Fujimoto (Japan), Franco Maigue (Phillipines ), Nalin Phuangkhuamsuk (Thailand). Top luthiers include Narongsak Visenut (Thailand ), Yuichi Ima i (Japa n), Karl Heinz (Germany) , Young Seo (Korea), Wiroon Song-Bundit (Tha i land) , Hanief Palopo (Indonesia), Falko Roemmich (Germany) and Raks Chingsakol (Thailand).
All concerts are performed in The Sukoso l's Rattanak osin Lounge. Tickets are Bht 600 for adults and Bht 400 for students (with valid I. D.), inclusive of coffee breaks. Observers of master classes and competitions pay Bht 200. Afternoon concert on June 16t h is Bht 300 for adults and students (with coffee break). To book, please call 0 22–4 70–123, ext 1912, 1944. For further details please go to www.thailandguitarsociety.com or www.facebook.com/pages/Asia-International-Guit ar-Festival-and-Competition-Bangkok.