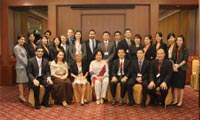 Cornell Master Class
BANGKOK, Thailand (March 6, 2012) — Siam Hotels & Resorts was pleased to welcome a group of 21 MMH (Master of Management in Hospitality) students from the Cornell School of Hotel Administration to its flag ship Bangkok property, Siam City Hotel, from February 28 – March 1. The group was here to conduct a Master Class as part of their Cornell-Nanyang Institute (CNI) Masters Program. The group was led by Sherri Kimes, a world-renowned professor of operations management at the Cornell School for Hotel Administration who specialises in yield management and restaurant revenue management and has worked with such brands as Walt Disney World Resorts and Starwood Hotels & Resorts Worldwide.
The program was a three-day immersion seminar with two primary purposes. The first was to allow graduate-level students to participate in a "real world" research project at the site of an industry leader's operation. The second was to allow a hospitality business (Siam City Hotel) to have creative and professional strategic solutions presented to them. Because the CNI program comprises only experienced graduate students, they were able to offer unique perspectives and insights for the hotel. As Laura Hooton, a student from Oregon, USA, put it: "Working with a local family- owned business has been gr eat as we've been able to learn first-hand what the Thai hospitality industry is all about. I think our visit has been mutually valuable, we students have gained valuable knowledge and it's been gratifying to have our ideas taken seriously."
As Jason M. Friedman, General Manager of Siam Hotels' luxury property, The Siam, and a Cornell alumnus explains, "I was honoured when Professor Kimes showed interest in working with us. There is always intense competition by the big international hospitality brands to get Professor Kimes' group to do a project with them and the fact that a domestic Thai brand was chosen is a gr eat compliment to Siam Hotels' brand positioning worldwide." These sentiments were echoed by the hotel's president and owner, Kamala Sukosol, who also viewed it as a tremendous opportunity to combine forces. "We are a strong local brand facing increased competition in Bangkok. I was very thankful that Jason could bring about this collaboration with Professor Kimes and the Cornell School. As the industry changes rapidly, new insights are necessary to help us compete in the market."
Professor Kimes said working with the Siam City Hotel was particularly wonderful because of the gracious co-operation and exciting repositioning currently going on. "It was a dream situation because the hotel's management was very willing to get involved, share knowledge and extend ever y professional courtesy to my students. This is not the norm and I was thrilled with the level of learning for the students. As the hotel is also a bout to rebrand ("The Sukosol" launches in June), our visit could not have been more timely."
As part of their in-country immersion program, the Cornell students also undertook some local philanthropy. They visited the Mirror Foundation in Bangkok to sort book and clothing donations for schools in rural Thailand that were affected by the recent floods. The students all found this community involvement immensely worthwhile and will continue to fundraise for the organisation upon their return to Singapore.