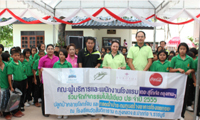 Doing Good Deeds
BANGKOK, Thailand (June 27, 2012) — On Saturday June 23, over 60 staff members, ranging from management to operations, from The Sukosol (formerly Siam City Hotel), Bangkok, went to Wat Santigaram School in Ratchaburi Province west of the capital to take part in a fun and productive Corporate Social Responsibility (CSR) initiative.
As part of the Sukosol Hotels' group, The Sukosol hotel is committed to engaging in positive community engagement and environmental conservation, evidenced by its four-leaf status in the GreenLeaf Foundation (GLF). Annually the hotel holds CSR and 'Going Green' trips to areas surrounding Bangkok to initiate and oversee a range of activities, such as beach clean-ups and hygiene seminars.
For this particular project the group visited the school to assistant with tree planting within the school grounds, to build a waste separation collection point (now a model project for the local community), play games and interact with the students and donate much-needed school supplies, such as stationary, sporting equipment and books.