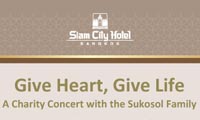 Give heart, Give life - A charity concert with the Sukosol family
BANGKOK, Thai land (January 12, 2011 ) —Siam Hotels & Resorts , the Ramathibodi Foundation and Singha Corporation are proud to present the charity gala dinner, "Give Heart, Give Life",onThursday, February 24 at 6:3 0 pm in the Kamolthip Ballroom, Siam City Hotel, Bangkok. All proceeds from the concert will go towards the "Liver Transplant from Parent to Child Program"; giving life to Thai children with liver disease.
The concert features matriarch Khun Kamala Sukosol and her talented family members: Marisa Sukosol Nunbhakdi, Krissada "Noi" Sukosol Clapp, Daranee Sukosol Clapp, Sukie Sukosol and Natalia Sukosol Briones . Joining them on stage are vocalists Rudklao Amratisha, Dolchai Boonyaratavej and Tanee Poonsuwan; along with the 20-member Prachin Songpow Big Band Orchest ra, under the direction of Piti Kayoonpan. To accompany them will be talented performers from the Aree School of Dance Arts, led by Ajarn Aree Sahavejjabhand. Thai land's exuberant "Lady of Swing", Kamala, president of S iam Hotels & Resorts will serenade audiences with fantastic selections of jazz , Broadway and pop songs , not to mention al l-time favourite Sukosol classics like "Live and learn" and "Sak Wan Neung" . For lovers of good entertainment and fun, this is a night not to be missed! The Sukosol family are generously donating their time, talent and hotel facilities as ambassadors of this worthy an d necessary cause, as Khun Kamala Sukosol explains: "As a mother myself, who has raised four healthy children I hope to see grow old , my heart goes out to these parents in great need. As such, my family and I want to use our resources and time to help raise much needed funds to assist these families stay healthy and together." This concert is open to the general public on a donation basis. For ticket enquiries, please phone 02–2 47–0123, ext .1928/1946. For general enquiries, please contact 02– 247– 012 3, ext. 1917-18; gpr@s iamhotels.com.
To donate directly to the Ramathibodi Foundati on, call 02- 201 -11 11. Contributions can also be donated by direct money transfer: Thai Commercial Bank, Ramathibodi branch, account number 026 -2- 019 00- 7; Bangkok Bank, Pradiphat Branch, account n umber 113–4–82 999– 1.