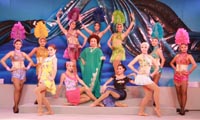 Hollywood Stars & Divas
BANGKOK, Thailand (February 23, 2012) — Sukosol Productions, the Thai Red Cross Society and Singha Corporation proudly present Thailand's grande dame of jazz, Kamala Sukosol, in her annual charity concert extravaganza entitled "Hollywood Stars & Divas". The 2012 concert series will run from March 15–17 inKamolthip Ballroom,SiamCity Hotel,Bangkok.
All proceeds from the concert will go to the Thai Red Cross Society, split between the Princess Sirindhorn Chulalongkorn Craniofacial Center, which provides free and invaluable operations and care to underprivileged Thai children with facial deformities, and Flood Relief Fund, assisting those affected by the recent disaster in central Thailand.
The concert will be jam-packed with wonderful entertainment by Kamala Sukosol, president of Siam Hotels & Resorts, and her talented family: daughters, Marisa and Daranee; granddaughter,Natalia; and sons, Sukie and Noi (Krissada). Joining the Sukosols on stage will be the 20-member Prachin Song pow Big Band Orchestra, special guest Dolchai Boonyaratavej and spectacular dancers from the Aree School of Dance Arts.
This year's concert will pay respects to some of the world's most memorable, beloved and inspirational songs and performers. The concert's unique songbook will range from classics like Édith Piaf's "La Vie En Rose" to Michael Jackson's iconic "Thriller" and Adele's Grammy awardwinning"Someone Like You". Highlights will include a "kings of swing" set of Frank Sinatra, TonyBennett and Michael Bublé classics and Thailand's dynamite mother-daughter duo, Kamala andMarisa, paying homage to one of the greatest family teams of all time—Judy Garland and LizaMinnelli. The ensemble will also perform three heartfelt tributes, the first to the undisputed queen of British soul music, Amy Winehouse; the second to the incredibleU.S.singer, actress and civil rights activist Lena Horne, and the last to the legendary and unforgettable Whitney Houston. This one will be particularly moving as Khun Kamala will provide narration about her extraordinary career and five singers will honour her with a three-song medley. Audiences should not miss this unique opportunity to see magnificent live singing, dancing, costumes and music at a calibre seldom experienced outside the realm of Broadway and theWest End.
Tickets on March 15 and 17 are Bht 2,500/2,000/1,500/1,000 and 400 for students. Tickets for the gala dinner on Friday March 16 are Bht 40,000/35,000 per table of 10. Tickets on sale at the Siam City Hotel, please call 02–247–0123, ext. 1928/1946 for bookings.
For further information about this press release, please contact the hotel's Public Relations
Department: 02–247–0123, ext. 1917 (Thai) / 1980 (Eng); gpr@siamhotels.com.
About Kamala Sukosol
Aside from being president and owner of Siam Hotels & Resorts, Kamala Sukosol manages to maintain a full and active career as an artiste. She is regarded as one of Thailand's leading jazz vocalists and her inimitable style has been showcased in over twenty recordings.Kamala is equally an entertainer as she is a singer; she has an uncanny ability to make audiences feel right at home with her humorous remarks, ad-lib stories, booming voice and engaging on-stage persona.
Regarded as Thailand's reigning "Lady of Swing", Khun Kamala has for many years used her flair as an entertainer and businesswoman to help Thailand's underprivileged. Kamala held her first charity concert in 1982 and since then has gone on to make the event an annual institution in Bangkok. Along with her family, friends and colleagues she has spent over 30 years entertaining audiences with her unique jazz vocal stylings while donating all performance earnings to charity. To date over 70 million baht has been raised. In particular, Khun Kamala and her family are ambassadors for the ChulalongkornCraniofacialCenterand the Ramathibodi Foundation's Parent-to-Child Liver Transplant campaign. Kamala's charitable deeds have been so magnanimous that in 2009 she was named as one of Forbes Asia's "48 Heroes of Philanthropy" and was awarded the Medal of Saint Nicholas the Wondermaker by the Russian government in 2010.