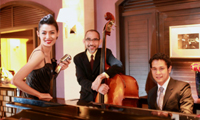 James & The Gemstones
BANGKOK, Thailand (June 22, 2012) — The Sukosol (formerly Siam City Hotel) is proud to play host to Bangkok's newest and hippest jazz trio, James & The Gemstones, performing live every Friday and Saturday night from 9:00 pm to midnight in the hotel's fabulous new 1920s-inspired Sapphire Bar.
The talented group is comprised of Pairach 'James' Lukchan, pianist and band leader who is a music instructor at Silpakorn University and was runner-up at the 2005 Thailand Jazz Competition King's Cup; Suwitch 'Wit' Sittiwongse, bass player with over 20 years of experience playing around town; and Janejira 'Jane' Bangphaphong, lead singer who annually participates in the Hua Hin Jazz Festival.
Between them the group has decades of experience, working at such prestigious Bangkok hotels as The Peninsula, Mandarin Oriental, Conrad, Sofitel, Plaza Athénée, Grand Hyatt, Shangri-La, Dusit Thani,Sheraton Grande, Sukhothai and Le Meridin. James and Wit have also worked with such renowned worldwide performers and musicians as Cynthia Utterbach, Cheryl Hayes, Coco York, Rick Smith,Christy Smith, Richard Jackson, Alemay Fernandez, Maya Nova and Micky Murphy.
Although Jane is the youngest and least experienced member of the trio, she makes up for that with a unique, sophisticated and powerful voice that lends itself beautifully to the group's repertoire of jazz and blues standards. Guests visiting the bar can expect to hear such classics as 'Fly Me to the Moon', 'The Girl From Ipanema', 'New York, New York', 'Smoke Gets in Your Eye', '(Get Your Kicks on) Route 66', 'Georgia on My Mind' and 'Cry Me a River'. Along with more contemporary hits by the likes of Alicia Keys, Toni Braxton, Natalie Cole, Diana Krall, Amy Winehouse, Sinéad O'Connor and Adele.