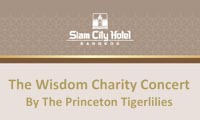 Princeton Tigerlilies Concert
BANGKOK, Thailand (January 17) — The Siam City and K-Bank are proud to announce a joint concert showcasing the talents of the wonderful Princeton Tilerlilies a cappella singing group on January 31, 2012 in the Rattanakosin Lounge, Siam City Hotel, Bangkok.
After enjoying cocktails in the hotel's delightful open-air Garden Pavilion the all-singing, alldancing troupe of 10 distinguished ladies from Princeton University will delight an audience of 100 VIP clients and executives from K-Bank in a 45-minute long mini concert. Though the group's working repertoire changes as new songs are constantly arranged and added, the Tigerlily sound and performance personality has always remained strong and unique. For this concert they will perform a medley of old and new songs, such as "Mean to Me", "Walk on By", "This Can't Be Love", "Proud Mary", "Flim Flam Man", "I've Got to Get a Message to You", "One Fine Day", "Venus", "Walking on Broken Glass" and "Love Will Come to You".
This corporate social responsibility (CSR) charity event will benefit the Chulalongkorn Craniofacial Center, Thai Red Cross Society which provides free and invaluable operations and care to underprivileged Thai children with facial deformities. This service has aided hundreds of Thai families since its inception in 1986 under the patronage of HRH Princess Maha Chakri Sirindhorn.
The Tigerlily tradition began at Princeton University on a fall afternoon in 1971. Maria Danly and seven other women gathered beneath the gothic architecture of 1879 archway, filling it with a four-part arrangement of the jazz classic "How High the Moon". This was the inception of the female a cappella sound at Princeton. The group has changed over the past three decades, but the tight-knit combination of music and sisterhood has stayed the same.Since that time the Tigerlilies have travelled far and wide, touring exotic locales such as Switzerland, Australia, Japan, Thailand, Hong Kong and the Bahamas, not to mention traversing coast-to-coast across the continental U.S.A.
For further information about this event, please contact the hotel's Public Relations Department: +66 (0) 2247–0123, ext. 1917 (Thai) / 1980 (Eng); gpr@siamhotels.com.