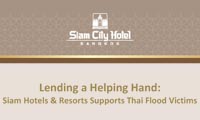 Supporting Thai Flood Victims
BANGKOK, Thailand (December 9, 2011) — Siam Hotels & Resorts, part of the Sukosol Group, has joined hands with the Thai Red Cross Society and UNICEF to provide emergency help and support for flood victims in Thailand through the donation of Baht 1.4 million inmuch-needed funds.
The money was given to the Thai Red Cross Society's Relief Communities Help Bureau to provide assistance to individuals and families affected by disaster, mobile hospitals to take care of physical and emotional rehabilitation needs and vocational training and community morale improvement.
Similarly, as the worst flooding in more than 50 years continues to take a terrible human toll, UNICEF is rushing essential humanitarian assistance to affected children and their families. They are undertaking to provide the following services and provisions: bottles of chlorine drops to purify drinking water; bottles of liquid soaps to help prevent the spread of communicable diseases; insecticide-treated mosquito nets to protect against dengue; "Child Friendly Spaces" at evacuation centres for recreation and psychosocial activities and "School in a Box" kits for learning in temporary settings while schools are repaired and refurbished.
The Sukosol Group's efforts to raise funds and awareness about the recent catastrophic flooding have also included the selling of a new "Sukosol family" collaborative CD, entitled LO-V-E. It is currently available at the group's Bangkok and Pattaya hotels, with all proceeds going to the Red Cross Society's Flood Relief Fund.
The group's Bangkok property, the Siam City Hotel, has also undertaken a slew of initiatives to help its staff affected by the floods, such as providing free on-site accommodation, parking and food. In addition, 67 employees indentified as being "in extreme need" were donated Baht 4,000 towards repairing their home and Baht 70,000 was used to buy them paint, brushes, cleaning materials, etc. Staffs are also eligible for a loan initiative program enabling them to borrow up to Baht 50,000 at a minimal interest rate.
For further details, please contact:Ms Candice Rafferty, Corporate Communications Manager Tel: +66 (0) 2247-0123, ext. 1980Fax: +66 (0) 2247-0165E-mail: gpr@siamhotels.com Facebook: www.facebook.com/siamcity Twitter: www.twitter.com/SiamBuzz Web: www.siamhotels.com