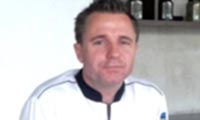 The Siam Appoints Executive Chef
BANGKOK, Thailand (December 9, 2011) — Siam Hotels & Resorts, part of the Sukosol Group, has joined hands with the Thai Red Cross Society and UNICEF to provide emergency help and support for flood victims in Thailand through the donation of Baht 1.4 million inmuch-needed funds.
The money was given to the Thai Red Cross Society's Relief Communities Help Bureau to provide assistance to individuals and families affected by disaster, mobile hospitals to take care of physical and emotional rehabilitation needs and vocational training and community morale improvement.
Similarly, as the worst flooding in more than 50 years continues to take a terrible human toll, UNICEF is rushing essential humanitarian assistance to affected children and their families. They BANGKOK, Thailand (February 13, 2011) – The Siam, debuting June 2012, is pleased to announce the appointment of Blair Mathieson as executive chef.
Born in New Zealand, Mathieson's passion for food started at an early age when he began his cooking apprenticeship in Auckland, before becoming chef de partie at the acclaimed Pier restaurant in Sydney. He then moved to England, where he worked at The Dorchester, before becoming senior sous chef at the one-star Michelin restaurant, Leatherne Bottle, in Berkshire County.
In 1997, Mathieson relocated to Nevis, West Indies, where he gained extensive hospitality experience at the Montpelier Plantation Inn, a luxury boutique hotel in the Caribbean. Here, he also learned about farming and sourcing local produce, a government standard to help support the local economy.
Back in Melbourne, Mathieson then spent eight years working at esteemed establishments such as Walters Wine Bar, Hotel Spencer and Pelican. In 2006, he relocated to Singapore to act as executive chef of the redeveloped Singapore Cricket Club, where he oversaw the reopening of the club's five bars and two restaurants, one of which later achieved a star award in the Singapore Wine and Dine guide.
Two years later, Mathieson moved to the Chedi, Chiang Mai, where he held the position of executive chef for three years and obtained 100/100 for food in Condé Nast Traveller magazine's 2009 Gold List. In early 2011, he moved to Bangalore as part of the pre-opening team for the luxury hospitality brand Alila Hotels & Resorts.
Now, Mathieson is excited to call Bangkok home, as part of The Siam's pre-opening team, where he will oversee the launch of the hotel's four food and beverage outlets: Chon Thai Restaurant (the main restaurant serving traditional Thai cuisine, featuring a chef's table and Thai cooking school), Deco Bar and Bistro (a multi-level lounge and restaurant featuring comfort food and bistro cuisine), Bathers Bar (poolside dining) and the Café Cha patisserie.