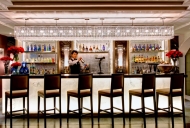 Come enjoy a 1920s 'speakeasy' with the most creative drinks and happening jazz in town!

Fabulous 'happy hour' from 5–7pm daily.
+ Find out more
28 May 2012
Saphhire Bar: Raising the Bar in Bangkok
The Siam City Hotel, Bangkok at Phayathai, is proud to unveil its chic new bar featuring some of the most creative drink creations and happening jazz to be found in the City of Angels. The sleek upgrade offers discerning patrons an elegant and refined ambiance with high ceilings, polished wood floors, expansive windows, plush sofas and a palette of sapphire blue, muted purple, subtle green and pops of red.
The bar has been meticulously modelled after a 'speakeasy' in the roaring 1920s and accordingly possesses a carefree and flamboyant atmosphere. It takes this iconic period as the basis for its overall design and service ethos, but adds a modern touch of style and selection. The bar is open 08:00–01:00 daily and makes for the perfect spot to linger over classic cocktails with friends, have an intimate tête-à-tête with a loved one, meet with business colleagues, celebrate a special occasion or enjoy live music. Sparkling and sociable patrons can even mingle at the beautiful five-meter long black marble bar and learn the finer points of mixology from our resident expert, Julian Gebhard.
Be dazzled by the bar's brilliant blue signature cocktail—The Sapphire, a clever concoction that perfectly blends together Grey Goose vodka, mango juice, orange flower water and a hint of fresh vanilla. It's topped with kaffir lime foam and there's a special loyalty gem waiting for drinkers at the bottom. This tipple perfectly encapsulates the bar's style and is the ideal way to kick the night off. Guests are encouraged to indulge in one (or two!) while enjoying a performance of the house band, James & the Gemstones, who perform on Friday and Saturday night from 9:00 pm till midnight.
The Sapphire Bar honours the cocktail world's rich lineage by serving renowned classic drinks such as the Bloody Mary, Martini, Daiquiri, Singapore Sling, Mojito, Mai Tai, Cosmopolitan, Margarita and Long Island Iced Tea, just to name a few. They also put a twist on convention by offering some signature drinks that have been localised with such unique ingredients as Thai rice vodka, lemongrass, chilli, passion fruit, mango and coconut. The extensive drinks menu also includes an extraordinary selection of premiere spirits, champagne, premium wines, imported beers from around the world and gourmet coffee and tea.
The establishment is also pleased to offer a unique collection of specialty bite-size cuisine that is tailor-made for sharing with the whole gang. Think dim sum tasting basket, fresh sashimi set and gourmet tapas platter. The dazzling array of delectable offerings come straight from the hotel's award-winning Lin-Fa Chinese and Kamon Japanese restaurants and are partnered by classic Western comfort food favourites. Guests with a sweet tooth need not despair as the bar also has a decadent range of homemade treats available throughout the day (high tea anyone?) and night.
All hipster Bangkokian flappers and flyboys are encouraged to stop by any night between 17:00–19:00 to experience our wonderful Happy Hour, when standard drinks (house wine, basic spirits, selected cocktails, local beer, etc) are available on a buy-one-get-one-free basis. Cheers to that!