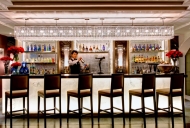 Come enjoy a 1920s 'speakeasy' with the most creative drinks and happening jazz in town!

Fabulous 'happy hour' from 5–7pm daily.
+ Find out more
12 May 2012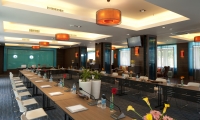 The View: Seaside Conferencing in Style
The Siam Bayview Hotel, in central Pattaya on Beach Road, is proud to unveil a fabulous new state-of-the-art conference room called The View. The spacious facility is located adjacent to the property's massage pavilion, garden and pool. Visitors to Thailand's premier seaside city can now conduct business in comfort and style whilst enjoying the best in Thai hospitality and service.
The unique space is divided into three zones: pre-function lounge, conference room and outdoor garden. The former two parts take up an area of 192 square metres and the latter 140 square metres. The overall design concept is one of modern, sophisticated, comfortable ease with vibrant, relaxing tones of yellow, orange, blue, green and brown.
As lead interior designer Khun Jarupan explains: "We wanted to create something special, not just another dull, utilitarian space. Somewhere appealing to both the mind and the eye, where people can meet, work, relax and socialise. Having The View split in three provides the added benefits of versatility and usability; guests have the option to not just work, but stretch their legs, get some fresh air and recharge, all within the same contained area."
The pre-function lounge is a warm and cosy space with a "home-away-from-home" vibe. It's stocked with ample sofa seating, decorative shelving and a coffee bar serving drinks and snacks, perfect for coffee breaks and break-out sessions overlooking the lush garden.
Next door, the conference room is a streamlined, comfortable space which can easily facilitate meetings, functions, seminars, training sessions and more for up to 120 people. The meeting room is equipped with a projector screen and two 43-inch flat-screen LCD TVs.
On the back side of the The View is the private outdoor garden, a large space where guests can relax in the sun beside water features and verdant plants, the perfect place to refresh and renew the mind. The space is ideal for casual coffee breaks and formal social soirees.
In combination with the Siam Bayview's other fabulous facilities – two outdoor pools with Jacuzzi, six restaurants and bars, two tennis courts, fitness centre, two massage pavilions, business centre, games room – the View is the perfect spot for a seaside business trip.
Conveniently located next door to the hotel is Central Festival Pattaya, the largest shopping mall in Southeast Asia. It houses more than 200 fashion outlets, countless international restaurants, a cinema, bowling alley, supermarket and more. Truly the perfect place for visiting guests to enjoy their leisure time and pick up a souvenir for family and friends.