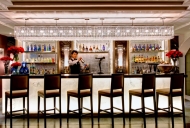 Come enjoy a 1920s 'speakeasy' with the most creative drinks and happening jazz in town!

Fabulous 'happy hour' from 5–7pm daily.
+ Find out more
13 February 2012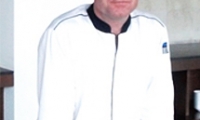 The Siam Apppoints Executive Chef: Blair Mathieson
The Siam, debuting June 2012, is pleased to announce the appointment of Blair Mathieson as executive chef.

Born in New Zealand, Mathieson's passion for food started at an early age when he began his cooking apprenticeship in Auckland, before becoming chef de partie at the acclaimed Pier restaurant in Sydney. He then moved to England, where he worked at The Dorchester, before becoming senior sous chef at the one-star Michelin restaurant, Leatherne Bottle, in Berkshire County.

In 1997, Mathieson relocated to Nevis, West Indies, where he gained extensive hospitality experience at the Montpelier Plantation Inn, a luxury boutique hotel in the Caribbean. Here, he also learned about farming and sourcing local produce, a government standard to help support the local economy.

Back in Melbourne, Mathieson then spent eight years working at esteemed establishments such as Walters Wine Bar, Hotel Spencer and Pelican. In 2006, he relocated to Singapore to act as executive chef of the redeveloped Singapore Cricket Club, where he oversaw the reopening of the club's five bars and two restaurants, one of which later achieved a star award in the Singapore Wine and Dine guide.

Two years later, Mathieson moved to the Chedi, Chiang Mai, where he held the position of executive chef for three years and obtained 100/100 for food in Condé Nast Traveller magazine's 2009 Gold List. In early 2011, he moved to Bangalore as part of the pre-opening team for the luxury hospitality brand Alila Hotels & Resorts.
Now, Mathieson is excited to call Bangkok home, as part of The Siam's pre-opening team, where he will oversee the launch of the hotel's four food and beverage outlets: Chon Thai Restaurant (the main restaurant serving traditional Thai cuisine, featuring a chef's table and Thai cooking school), Deco Bar and Bistro (a multi-level lounge and restaurant featuring comfort food and bistro cuisine), Bathers Bar (poolside dining) and the Café Cha patisserie.
"As a lifelong, passionate foodie with high expectations for the food coming from The Siam's kitchens, I knew it was going to be a challenging search to find the right chef," said The Siam General Manager Jason Friedman. "Twelve months and countless interviews later, we found Chef Blair, and he was well worth the wait. We knew we had the right chef when he was able to cook 18 flawless dishes for us during his 'interview.' Under the best of circumstances this would be challenging for the most skilled chef, but to do it in one day in an unfamiliar kitchen showed us that he was cool under pressure and a master of his craft. I am incredibly excited to be working with Chef Blair in developing The Siam's extensive food and beverage offering and look forward to sharing this with our guests."

Mathieson's style of cooking is very global, encompassing many different flavors and techniques from the Mediterranean, Europe, Middle East and Asia. At The Siam, the food will be fun, enjoyable, flavorful, visually exciting and accessible to all.

"The cornerstone of good cooking is to source the finest produce. This is why I keep my dishes simple, so the natural flavors of the produce are not overshadowed but rather enhanced," says Mathieson. "As a chef, I am also aware of my own environmental responsibilities, and sourcing locally is not only more responsible, but we get to feature the food native to this region, such as corn fed chicken, organic pork, soft shell crab and manila clams, to name a few."

Mathieson also likes to pay homage to traditional dishes and styles of cooking that have evolved since the beginning of time by putting his own spin on them meanwhile keeping in mind the cultures and traditions. His ultimate desire is to create true culinary adventures and ever-lasting memories for all to enjoy and to be a positive force in the lives of all that eat his food.