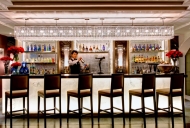 Come enjoy a 1920s 'speakeasy' with the most creative drinks and happening jazz in town!

Fabulous 'happy hour' from 5–7pm daily.
+ Find out more
10 July 2012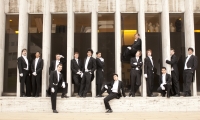 The Whiffenpoofs of Yale University Visit
Sukosol Hotels is pleased to welcome back Yale's very own Whiffenpoofs (aka the "Whiffs") to perform in the City of Angels from August 7–9 at two of its premier city hotels. These fourteen talented Ivy League gentlemen are poised to thrill Thai music lovers with their unique a cappella singing style and (in)famous comedic antics.
The group is one of the world's oldest and best known American a cappella legends; so named for their light-hearted mood of "free and exuberant fancy". Founded in 1909, the Whiffs began as a senior quintet but quickly became an in-demand tour de force on the musical scene. They have performed for a range of distinguished guests, including Mother Theresa, Dalai Lama and former U.S. Presidents Reagan, Bush and Clinton. The group has also appeared on television shows such as Jeopardy!, The Today Show, Saturday Night Live, 60 Minutes, Gilmore Girls and The West Wing. Not to mention that in December 2010 the group was featured on NBC's acclaimed a cappella TV competition The Sing-Off. It is also worth noting that a portion of their proceeds from touring each year is donated to the Whiffenpoof Children's Literacy Initiative, which aims to create 15 literacy centres in 12 countries.
The group's repertoire draws on a long heritage of original arrangements from many styles and eras, whereby they routinely supplement their traditional barbershop and choral foundation with jazz standards, pop songs and comedy routines. Some new additions to the repertoire include "Got to Get You into My Life", "The Rainbow Connection", "Nature Boy", "Down by the Salley Gardens", "The Boxer" and "Skinny Love".
For three exclusive nights the Whiffs will be performing in Bangkok for Sukosol Hotels. On Wednesday (August 8) at 7:00 p.m. they'll perform at our group's newest property, The Siam. This exclusive event (Baht 1,200++) features one hour of free-flow sunset cocktails and canapés overlooking the Chao Phraya River whilst the boys croon. Afterwards savour a 15% discount on dining at the Deco Bar & Bistro.
Alternatively, The Sukosol (formerly Siam City Hotel) will host the boys on Tuesday and Thursday night (August 7 & 9) at 8:30 p.m. in the newly opened Sapphire Bar. The entry price of Baht 500 nett entitles all attendees to one standard cocktail. We also have a "dine & show" package available, including the performance, cocktail and gourmet Mediterranean buffet dinner at Primavera Italian Restaurant for Baht 1,100 nett.
Bookings for both venues are highly recommended as space is strictly limited. Please call 02–206–6999, e-mail events@thesiamhotel.com or visit www.thesiamhotel.com for The Siam. And call 02–247–0123, e-mail gpr@sukosolhotels.com or visit www.sukosolhotels.com for The Sukosol.